Construction Management Schools & Training for Construction Management and Project Management

| | | | |
| --- | --- | --- | --- |
| | | | |
Turnkey Construction Management Institute Inc, is a vocational school offering certified courses in Construction Management, Construction Estimating and Construction Project Management
---
AS SEEN ON THE BAY AREA'S ABC CHANNEL 7 NEWS!
See a channel 7 news video about the founder of the Turnkey institute, Bob Turney. CLICK HERE to view it now.

More about us
Contact Our School Counselors Today!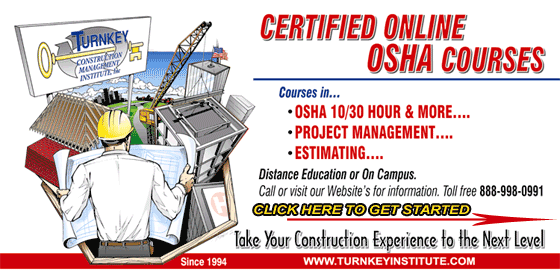 Turnkey Construction Management Institute (TCMI) operates two construction management schools, dedicated to teaching you how to use your existing construction skills, and apply them towards the exciting field of construction project management, construction estimator, and/or construction superintendent. For your convenience, we offer on-campus and distant learning vocational courses.

To unlock your future and start your new career today, please visit our campus Construction Management Vocational School website here >

Are you a Military Veteran? If so, we have designed a course just for you. We are VA approved and hold our classroom course in a VA building in Los Angeles, CA. For more information about our VA courses, please visit our VA website here >
---
Construction management training
brought to you by the #1 Construction Management Schools in California:

Turnkey Construction Management Institute, Inc.
Northern California
(Main Office) 20980 Redwood Road, Suite 205, Castro Valley, CA 94546 Local Phone: (510) 537-2338 Fax: (510) 537-3565 E-mail: bob@turnkeyinstitute.com
Ideal location for students from: San Francisco and Alameda Counties. Located just 15 minutes from Oakland International Airport, students from as far as Samoa, Europe and Africa have attended the Turnkey Construction Institute. All Nationalities are welcome and we offer special hotel pricing and assistance for students outside the area.
---
About this exciting career field
"Construction Management Estimator" - A construction estimator is one who accurately forecast the cost of future projects and compiles and analyzes data of all the factors that can influence construction costs. These cost include construction materials, construction labor, construction location, and special machinery requirements.
"Construction Project Manager" - A construction project manager is who coordinates and supervises the construction process from the conceptual development stage through the final construction phase. They are responsible for coordinating and managing people, materials, and equipment; budgets, schedules, and contracts; and safety of employees and the general public.
To prepare you for your new Construction Management career, you will learn how to use:
A construction management calculator
Read both commercial construction and residential construction Blue Prints.
Prepare detailed material lists and "Take Offs" of 13 of the 16 construction divisions.
All the necessary computer applications.
And much, much more!"
When you have completed our construction management courses, we will assist you with your Presentation Portfolio's, provide Job Listings and brief you on "smart" interviewing techniques.

So if your ready to hang up the tool belt and learn the skills needed to move into the office…or if you just need a refresher - contact the Turnkey Construction Management Institute today! What are you waiting for?" Click here for contact information.
Who is the TCMI construction management school for? We provide training for people (with and without a background in the construction trades) and prepare you for a position as construction superintendent, construction project manager, or construction estimator. The objective is to take your skills, abilities, and years of experience and refine them in a specific manner which would enable you to return to the workforce at a management level within the fast-growing & highly-profitable construction industry. No experience is required - and we'll teach you all you need to know to succeed in your new rewarding career.
Visit our Construction Management school website NOW!
Construction Management and construction estimating vocational schools
Copyright © Turnkey Construction Management Institute, Inc. - 1998-2017
This website is designed for Java Enabled Browsers and for screen resolutions of
| 800x600 | 1024x768 |
Best when viewed with color settings of 24 or 32 bit
-and-
Microsoft Internet Explorer or Netscape Navigator

Home | About Us and the instructors | Contact Our Management School Counselors Today!

Core Curriculum
Distance Education / Home Study
Construction Estimator /Project Manager - 16 Lessons
Total Off-Campus Lessons: 16
• Basic Construction Mathematics

• Blueprint Reading

• Construction Estimating

• Construction Management

• Project Management – Critical Path Method (CPM)

• Quantity Survey

• Computer Training
1. Computer Basics
2. Timberline® Precision Estimating Standard Edition For Windows 95

3. National Construction Estimator

Primavera® SureTrak
Distance Education
The curriculum for our distance education program is a duplicate of the on campus 16-week Estimator & Project Manager course that has been taught at the main branch since 1994. The 16-week program has been divided into 16 lessons. At the completion of each lesson the course material is either submitted online or via prepaid envelopes. The material is graded and promptly returned to the student. Each student is given a number of lessons to complete, so they may immediately continue on to the next lesson. Instruction is provided in three ways; first there is a video, which will guide the student through all sixteen lessons. Next a very specific and detailed assignment list is given which will describe exactly what is contained in each lesson and finally a toll free phone number is given so that a student may call anytime during regular school hours and speak with one of our friendly and helpful instructors.
---
Skills & Responsibilities
Construction Estimator....
* By definition, estimating is "the act of appraising or valuing the worth of something." In construction , it is the science of mathematics, the knowledge of materials, and the art of interpretation of a blueprint. This combination produces an assessment of a construction project that becomes the bid package, or proposal, and the basis of the construction contract.
There are two basic prerequisites for anyone wanting to learn these procedures:
1. A knowledge of reading and measuring blueprints.
2. A knowledge of mathematics.
* The skills of measurement and pricing of construction work can readily be acquired by any person of average intelligence and competence who has reason and motivation to do so. It should be understood that it is extremely beneficial to be able to visualize and understand building construction systems and processes although it is not required.
Construction Project Manager....
* Every participating organization on a project has its project manager. Although the person is sometimes known by different names, the duties remain the same. Whether in the direct employ of the owner, the design firm, or the contractor, the project manager is usually the person responsible for the management of all phases of the project for his or her organization. The project manager controls the scheduling, budgeting, and cost control coordination of construction, letting of contracts for the owner, and is normally the sole contact with the client as a representative of the contractor.
Construction Superintendent....
* The Superintendent is in full charge of all field projects. When several projects are under construction, he coordinates all of them, directing the interchange of materials, workers, and equipment; stimulating progress; and resolving all problems that do not require the attention of the company manager.
---